---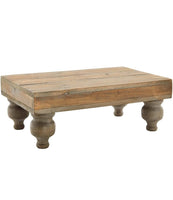 Serving stand measures 12 1/2" x 20 1/4"
Serving stand is made from pine wood
Serving board features planked wood design

Take your serving to the next level with our wood footed serving stand. The oversized serving stand is made of planked pine wood. The serving stand has hand-turned pedestal feet. This board is perfect for desserts, charcuterie boards and cheeseboards. Pair with our bistro ramekins for an easy serving option.